Dave "Tiger" Williams
Dave "Tiger" Williams was born on February 3 1954, in Weyburn, Saskatchewan. He played junior hockey with the Swift Current Broncos of the Western Canadian Hockey League (WCHL) and was well known for both his scoring abilities and on-ice toughness. He scored over 50 goals in his final year in junior but also had 300+ penalty minutes. He was drafted in the second round, #31 overall in the 1974 NHL amateur draft by the Toronto Maple Leafs. He joined the team part way through the 1974-75 and had an immediate impact bringing toughness to the team. The 1970s NHL was a tough league where the Leafs often went head to head with their arch rivals, the Broadstreet Bullies from Philadelphia.

Tiger Williams spent the decade of the 1970s in Toronto, manning the enforcer role while still scoring around 20 goals and 40 points per season. Tiger was a fan favourite not only for his fighting abilities but because after scoring a goal, he would ride his hockey stick down the length of the ice. In early 1980 him and Jerry Butler were traded by the Leafs to the Vancouver Canucks for Bill Derlago and Rick Vaive. He had his best year in 1980-81 with the Canucks scoring 35 goals and 27 assists for 62 points and adding 343 minutes in penalties. He spent some time in 1984 with the Detroit Red Wings organization before playing for four seasons with the Los Angeles Kings. In 1987 he was traded by the Kings to the Hartford Whalers for cash and ended his career at the end of that season. At the end of his 14-year NHL career, Tiger is the league's all-time leader in regular season penalty minutes with 3,966.


Dave "Tiger" William's Career Statistics
Year     Team                  GP   G   A   Pts   Pim
1974-75  Toronto Maple Leafs   42  10  19    29   187
1975-76  Toronto Maple Leafs   78  21  19    40   299
1976-77  Toronto Maple Leafs   77  18  25    43   338
1977-78  Toronto Maple Leafs   78  19  31    50   351
1978-79  Toronto Maple Leafs   77  19  20    39   298
1979-80  Toronto Maple Leafs   55  22  18    40   197
1979-80  Vancouver Canucks     23   8   5    13    81
1980-81  Vancouver Canucks     77  35  27    62   343
1981-82  Vancouver Canucks     77  17  21    38   341
1982-83  Vancouver Canucks     68   8  13    21   265
1983-84  Vancouver Canucks     67  15  16    31   294
1984-85  Detroit Red Wings     55   3   8    11   158
1984-85  Los-Angeles Kings     12   4   3     7    43 
1985-86  Los-Angeles Kings     72  20  29    49   320
1986-87  Los-Angeles Kings     76  16  18    34   358 
1987-88  Los-Angeles Kings      2   0   0     0     6 
1987-88  Hartford Whalers      26   6   0     6    87
Career Totals                 962 241 272   513  3966 

Tiger Williams Pictures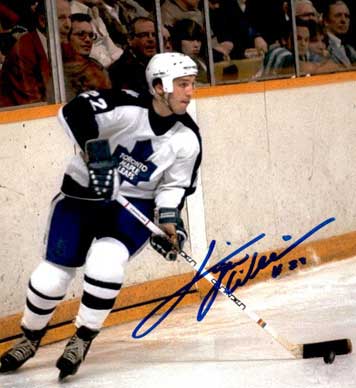 Autographed Dave "Tiger" Williams Memorabilia
Dave Tiger Williams Autographed Toronto Maple Leafs Hockey Puck